2020 Campground Repairs/Expansion Needed
Our camp family and loyal friends have made camp meeting possible with generous giving over the years.  The Board of Trustees has identified four key areas needing immediate funding in order to be ready for Campmeeting 2020.  These needs are explained in a recent Letter from Treasurer.
Overview of Needs:
$2,000 for Main Tabernacle rafter repairs, drainage and curbing
$3,000 for our Sewage System
$5,000 for more water lines at the RV Park
$40,000 for street and drainage repairs across the entire camp.
Frankly stated, the Board needs $50,000 by April 1, 2020 for these projects.  Thank you for your support of Indian Springs Holiness Campmeeting!  See various ways to give on this page.
Text Giving – easy to do!
TEXT2GIVE is in operation now.  It's a method of giving through text on a cell phone or iPad.  It's easy, efficient and totally private.  It takes about one minute to set up.
If you donate to TEXT2GIVE, designate your gift to "General Fund".
Set up number on cell phone:  (770) 749-7552.
Text the word, GIVE to that number.
The system walks you through a quick set up.
Give Monthly 
Giving monthly is very helpful to Indian Springs Holiness Camp Meeting.  We have some easy ways to do this.  See our DONATE information at right.
Questions?  Contact:
J. Kevin Thompson @ ishctreasurer@yahoo.com
Indian Springs Treasurer
P. O. Box 1742
Mableton, GA 30126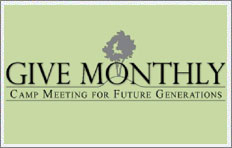 Monthly Budget Needs:  $30,000
Annual Budget Needs:  $360,000
You may make donations and payments to Indian Springs through our secure and private PayPal system. Or, you may give through your own credit card.  Your gift will be acknowledged by email if you click on the last page of the Check-Out Process.
When using PayPal, a Credit/Debit card, or TEXT2GIVE, designate your gift to "General Fund".
Or, you may mail your gift or payment to the Camp Treasurer (address below).
Thank you for participating in the ministry of Indian Springs!