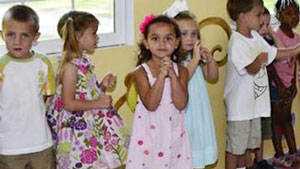 *Children may be dropped off 15 minutes prior to services; please pick up your children no later than 15 minutes after the closing of each service.
Nursery Operating Hours*
| | |
| --- | --- |
| Bible Study: | 9:30-10:30 am |
| Morning Service: | 11 am |
| Evening Service: | 7:30 pm |
| Place: | Folds Nursery |
About the Nursery & Back Porch Ministry
Nursery & Back Porch Ministry Leaders:   Nicole Pavey Butler and Team
Other Staff Members:  Our Nursery is fully staffed with many workers who have been with us for years; all have a loving heart for children.
2021 Ministry Theme:  "10 To-Do's for God and You: The Beatitudes"
Spiritual Mission:  For children (even this tiny) to begin to understand that Jesus loves them and wants them to live for Him!
---
Age Groups
There are two different buildings for three different age groups:
Crib Babies (Folds Nursery)
Toddlers (Folds Nursery)
4-5 Year Olds (Back Porch Nursery)
---
Back Porch Bible Story Hour:
(4-5 Year Olds) 9:30 – 10:30 am
Bible stories introduce our smallest campers to Jesus through music, storytelling and fun activities.
---
Safe Sign-In/Out System
Ensures children are matched up properly at pickup time.
Parents indicate approximately what part of the Tabernacle they will sit in, so that they may be located during the service, if necessary.
Parents should pick up children no later than 15 minutes after the end of each service.
Program Highlights
Bible stories, music and age-appropriate activities
Suitable toys for each age group
Supervised outdoor play in a fenced-in playground
Snacks
---
Marcia Pavey Honored for 32 Years of Service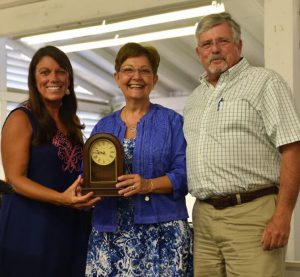 On Saturday night, July 16, 2016, the entire Main Tabernacle stood and cheered to honor Marcia Pavey for her anointed leadership of the Nursery and Bible Porch ministries.  For 32 years, Marcia has managed Indian Springs' effective program for Infants and Children.
Each year, she and her dedicated assistants presented biblically based curriculum to our smallest campers with the belief that these little ones can love Jesus and understand Bible verses.  Hundreds of parents and grandparents were able to participate in our Bible study and three daily worship services because Marcia was caring for and teaching their children.
Steve Luce, President, remarked:  "Marcia's decades of service have impacted nearly everyone in the Indian Springs family.  She either taught you about the Bible or has taught one of your children!  Her influence will continue to be felt for generations!"
The evening that Marcia was recognized for her service, Joy Griffin, Chairman of the Nursery Ministry, presented Marcia with a lovely commemorative clock.  Marcia's daughter, Nicole Pavey Butler, is the new director of the Nursery and Bible Porch.