Today, you have many options for staying on our campground…
---
In the Beginning…..and now!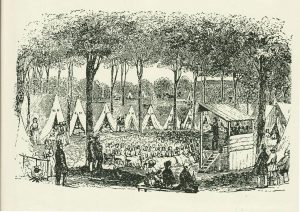 In 1890, people came to camp meeting on horseback and in buggies. Living in tents and meeting under trees, thousands gathered for worship and Bible study.
Today, we arrive with laptops and cell phones and move from place to place in golf carts!
Our campground is a thriving community with a variety of "camp meeting style" accommodations at prices that can fit everyone's budget.  Many people find that the camp meeting experience in enhanced by staying on the grounds.
For your convenience, Wifi is located in several places throughout the camp ground. Three meals are served daily in our Cafeteria and snacks are sold at the popular 'Snakateria'.