Congratulations, Indian Springs!
Our 5K raised $32,000 in 2019!  That amount makes a total of $112,000 raised totally in ten years for missions!  Let's increase that amount this year!
 2021 Run/Walk: Saturday, July 10, 2021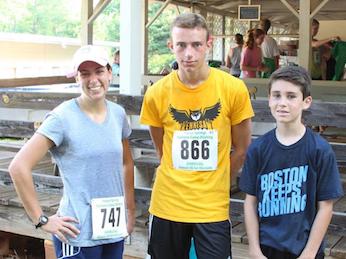 Calling all Runners & Walkers (and Pushers-of-Baby-Carriages)
Initiated in 2010, the 5K Run/Walk for Missions has proven to be very popular with our Indian Springs family!  Enduring a sweltering heat index and 100% humidity, over 150 runners, walkers, pushers-of- baby-carriages and dogs participate each year.  Held on the first Saturday of each camp, this energetic annual event engages athletic and not-so-athletic participants.
Net proceeds support our annual missionary families.
---
Bringing the Camp Family Together…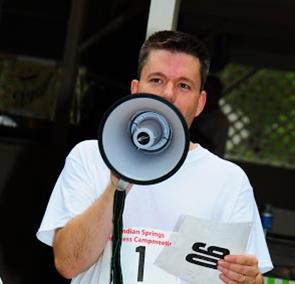 Event founders, Kevin and Jeff Thompson, had the idea ten years ago when they observed an increased number of people jogging in the early hours of camp.  They wondered if runners would enjoy a competitive race and presented the novel idea to the Board.   Each year, the event becomes more popular. Beginning 2021, the event is managed by Matt and Leslie Atkins and other volunteers.
Kevin remarks, "The Run/Walk brings a community of believers together who might not otherwise have an opportunity to meet, while having fun doing something they enjoy.  Most important, the mission focus really adds purpose to this effort."
---
Running (or walking) the Course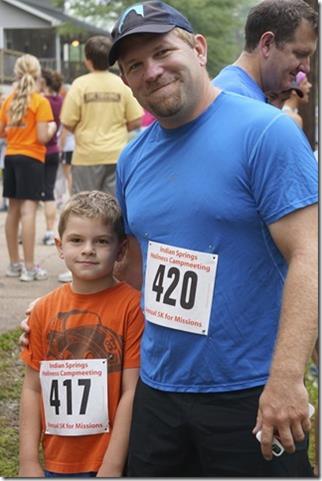 The 5K course begins and ends at the Snackateria.  The course route covers the perimeter of the campground three times.
Anyone is welcome to participate.  If you are not inclined to actually "run the course", you may sponsor a Youth Runner/Walker on your behalf and sit on your porch to cheer your participant on! (But whoever runs, "Gets the T-shirt!")
There is friendly sparring between competitors during the run/walk.  Porch sitters become enthusiastic cheerleaders, offering encouragement to sweating runners or walkers.
Let us run with endurance…
"Therefore, since we are surrounded by so great a cloud of witnesses, let us also lay aside every weight and sin which clings so closely, and let us run with endurance the race that is set before us."  Hebrews 12:1