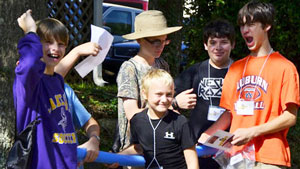 Tweens Ministry
| | |
| --- | --- |
| Ages: | 6th – 9th Grades |
| Morning: | 9:30am – 12:15 pm |
| Afternoon Recreation: | 2:30 – 4:00 pm |
| Evening Hang Out: | 8:45-ish – 10:00pm |
| Place: | Tweens Tabernacle |
About the Tweens Ministry
Tweens Ministry Leaders:  Logan & Sadie Stoltman with Aaron & Kari Kline and team
Other Team Members:  A host of talented and energetic group leaders, musicians, Bible teachers, art craftsmen, computer techs and volunteers.
2021 Ministry Theme:  "Peace, Courage & Strength: Lessons from Daniel 10:19"
Spiritual Mission:  The Tweens Ministry helps Tweens develop spiritual maturity through biblical principles and discipleship. This innovative and creative ministry has influenced an entire generation for Christ.
The Tweens Ministry also has a strong involvement in international missions.
Interested in Volunteering for the Tweens?  Contact Dan Searls at dksearls@gmail.com
---
General Information
Mornings 9:30 am – 12:15 pm
Music, praise & Bible-verse study
Biblical teaching
Small group interaction with frequent "de-briefings"
Craft projects which reinforce Scripture lessons
Discussion about missions
Afternoons
General activities such as guitar lessons, jewelry making or watching videos
Hot days? Water slide!
Tween Olympics & Talent Show
Evenings (after the Evening Service – 9:45 pm)
Hanging out, kicking back and talking
Interface more personally with Team Leaders