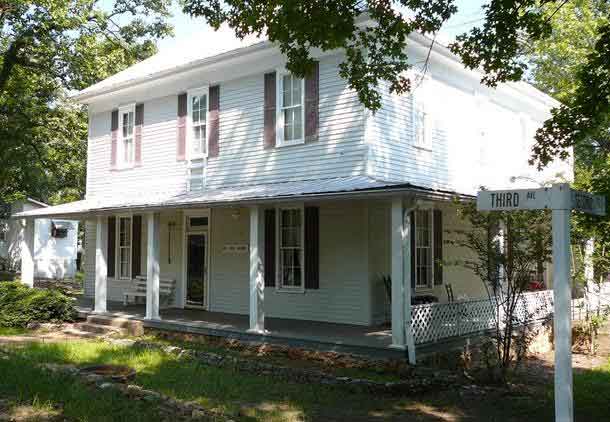 Owning a cottage on the campground enhances all aspects of the camp meeting experience.  Spiritual focus and time with family and friends takes on a new depth when camp meeting is shared under one's own roof.  Historically, cottage ownership has always been considered an opportunity to widen the ministry of the camp.
Some board members from earlier times referred to cottage ownership as a 'heritage of hospitality'. Over the years, Indian Springs has developed a unique form of evangelism that could be described as 'cottage revivalism'.
Cottage Revivalism. This form of revivalism has been going on at Indian Springs for almost one hundred years. Some of the larger homes built at the turn of the 20th century were designed to accommodate numerous guests. These older homes had huge sleeping porches and dining halls that could accommodate 30-50 people! The exposure to the preaching and teaching had incredible affects; many hundreds of people have heard the gospel at Indian Springs because someone at campmeeting purposely opened their home to guests.
Each cottage – whether large or small – is an opportunity to widen the ministry and blessings of Indian Springs.
Investing in Your Family's Spiritual Future. Cottage ownership at Indian Springs is a significant way to invest in your family's spiritual heritage. Judge Bryant Culpepper of Fort Valley made these comments in 2007 after he purchased a home on the campground.
"I've come to camp meeting all my life," said the Judge, "but I had never stayed here before.  Camp meeting has a different perspective when you immerse yourself in the whole program.  Buying a cottage at Indian Springs is a better investment in my family's spiritual future than a fancy cabin on a lake somewhere."
Existing Cottages for Sale
 Cottage for Sale – #28:  Single wide mobile home with 2 BR/1 Bath; fully furnished; no refrigerator; new roof, new flooring and repainted.  $28,000 is asking price, but is negotiable.  For further details, contact Rob Roy MacGregor rjmacgre@gmail.com or call (912) 583-2608.
Cottage Holder Information
This section answers questions pertaining to cottage sales, cottage ownership, building and leasing cottages. It also provides important information regarding the use of your cottage.