---
Books, Gifts, Coffee and Snacks
The Bookstore has wide variety of religious books, study resources and Bibles.  In addition, there is a selection of cards, inspirational gifts, decorative accessories, small snacks and refreshments. Camp t-shirts, mugs and memorabilia are also for sale.  Coffee is available through a variety of K-cups.
Children will be intrigued by a great selection of children's books, some toys, small sizes of T-shirts and candy/snacks.
Reading and Study Materials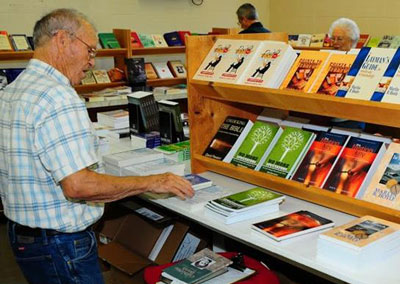 The doctrines preached from our pulpit are reinforced by the impressive selection of books available in the Indian Springs Bookstore.
In general, our Book Store includes many titles for all ages that address both the historical basics of the holiness doctrine and contemporary issues across a broad spectrum of Christian life.
Many of our books are out of print or are not generally available elsewhere. Take home a sack-full of books from our bookstore and have camp meeting all year!
Most of our evangelists and teachers have books and pamphlets available for sale in the Bookstore.  So, if you enjoy a specific speaker at Indian Springs, you can probably purchase some of his or her best sellers.
Types of Books
Various Bible Translations
Study guides for Pastors, Youth and Bible Teachers
Small Group Studies
Commentaries
Devotional Books
Christian Fiction
Holiness Biographies
Age-specific Study Materials
Relational Topics, including Marriage, Family and Parenting
---
Media Ministry
Update in process.