When vision is combined with hard work, many good things happen!  Men With Vision (MWV) has been busy with various work projects on the campground and hosting a missions conferences at different times.
Steve Luce, President, said, "Men With Vision's faithful assistance has saved a lot of money for the campground! Their talents and labor are a huge contribution to Indian Springs.  Our meal time and Bible studies in the evenings also provide meaningful fellowship."
Read Gentry Cohran's personal testimony of what being involved with MWV means to him:  Why I'm Involved with Men With Vision.
---
Upcoming Events:
Don't miss the MWV Fall Work Week:  October 16 – 21, 2023 – Volunteers needed! Come one day, or all week!
Work projects:  Upgrade John R. Church Building; paint two rooms; install stripping for dry wall ceiling; provided wiring for ceiling lights & receptacles.  
Missions Retreat:  Spring 2024 details to be announced.
Contact Rob Roy MacGregor below if you have questions.  His contact information is shown below.
---
Want to be involved with missions, but aren't sure how?
The Georgia Chapter of Men with Vision (MWV) provides an opportunity for men to be involved in missions, while coming together for a time of fellowship, study and prayer.  MWV emphasizes praying, practicing and promoting missions.
Men With Vision is a ministry of World Gospel Mission (WGM):
---

Activities & Missions Interface
The Georgia Chapter of MWV began at Indian Springs in 2013.  Activities typically include two retreats held on the campground. The retreats also feature fellowship, Bible study and learning more about mission work around the world.  In addition, work projects on the campground are a part of this fellowship group.
Participants hear about missions from career missionaries or leaders from WGM. The most exciting possibility of MWV is to participate in actual mission projects.
Several members of the MWV have served with the Indian Springs Mission Team in Honduras over the past few years, interfacing with the ministry activities of WGM missionaries, Larry and Angie Overholt. The Overholts direct a vocational school in Choluteca that teaches refrigeration, auto mechanics and sewing. Typical mission team projects include a construction project, as well as participation in village outreach and church services.
---
Get Involved!
Being involved with MWV is a great way to get to know other member of the Indian Springs family!  Although the name of the organization reflects an emphasis for men, there are also ministry projects and activities for the entire family. Future MWV projects may form work teams for mission trips to assist WGM missionaries.
---
Interested in getting involved? Contact: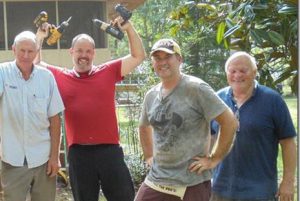 Rob Roy MacGregor:
(h) (912) 583.2608
(c) (912) 585.3224
rjmacgre@gmail.com
Rob Roy MacGregor said, "It is exciting to see what God can do when God's people get involved by praying, going and giving to spread the story of Jesus' love to those who have not yet heard. As a participant in MWV, I am encouraged and blessed to have fellowship with like-minded men interested in promoting missions."