Dorm Experience & Registration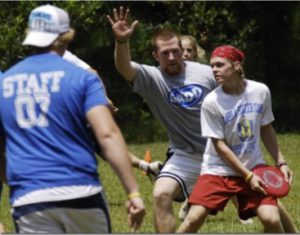 Quick Online Youth Pre-Registration Form
Payment Form:  $20 per day
Staying in the Youth Dorms enhances the overall campmeeting experience.  Friends made during camp often become peer support throughout the year.  Youth counselors are well-qualified and offer leadership throughout camp, whether it is for dorm discussion or recreational activities in the afternoon.
Cost for the dorms is $20/day with the requirement of participating in KP duty for one meal a day.  Three meals a day are also included.  Dorms are air-conditioned.  Please bring your own bedding for twin sized bunks.
Youth Contact
Mat Luce: m.luce24@gmail.com
It's a Great Life in the Dorm!
Basic bunk beds and communal bathrooms
Air-conditioned dorms
Supervision by experienced youth counselors who oversee dorm-life and participation in activities and services
Morning and evening devotional times
Meal Information
Per meal limits are $6 for Breakfast and $8 for Lunch and Supper. Additional food is charged separately.
Each young person has "Kitchen Police" (KP) duty for one meal each day in the Cafeteria.
KP duty may include serving meals, waiting on tables and washing dishes.
Our Youth Say It Best
"Dorm life is bad for sleep, but great for getting to know other guys on a real level! You stop being fake and start being real. The whole fake front lasts for about 3 days before it takes a hike."
"One of the best aspects of dorm life is time with the counselors who are available for discussion and prayer."
"I've had friends from Indian Springs all through my high school years.  We keep in touch during the year."
"Dorm life gives kids the opportunity to open up and have fellowship with one another. You are able to confide in counselors and get advice from friends who have already been through these waters. A counselor is an older, wiser friend who can sometimes say what parents can't."