About Adult Ministries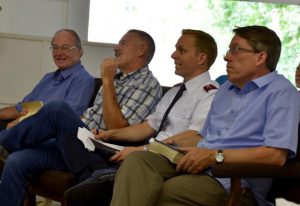 Adult activities center on these four daily services in the Main Tabernacle:
Adult Bible Study @ 9:30 am
Worship Service @ 11 am
Worship Service @ 3 pm
Worship Service @ 7:30 pm
In these services, you will experience the best of old-time camp meeting singing, teaching and preaching. Most important, you will hear the messages of salvation and sanctification presented in the simplest and most relevant terms.
2021 Evangelists & Bible Study Teacher
Dr. Gary Henecke, Evangelist
Dr. Stan Key, Evangelist
Dr. Nelson Perdue, Evangelist
Dr. John Oswalt, Bible Study Teacher
Healing Service:
Saturday, July 10, 2021:  11 am Service – Main Tabernacle
Healing is one of the three ministries Jesus specifically gave to the church. A main tenet of the early holiness movement was an emphasis on healing.
The Healing Service at Indian Springs deals with physical, emotional, relational and spiritual healing. You may come for yourself and also stand in for loved ones. Our evangelists and other clergy assist with this special service.
Memorial Service
Sunday, July 11, 2021:  After 3 pm Service – Main Tabernacle
Join us for this special time of remembrance for those of the Indian Springs family who have passed away during this past year. The Memorial Service is a meaningful tradition at Indian Springs.
If you are interested in honoring a loved one, contact Rev. Len Walker at lwalker107@gmail.com.
Morning Prayer Meeting – Daily
7:00 am – Main Tabernacle
Our day begins at 7:00 a.m. around the altars of our century-old Main Tabernacle for a short devotional and prayer. Our former President Fred Harris, observed that "prayer is the engine that drives this camp."
The Morning Prayer Meeting is an uplifting start to our day. The fellowship is rich as we pray for the activities of the camp and individual needs.
Adult Bible Study
9:30 – 10:30 am – Main Tabernacle:  Dr. Jim Schuppe
A leading theologian and Bible teacher from within the Wesleyan holiness tradition presents a carefully planned, ten-day long study of Scripture. The studies typically focus on a book of the Bible, an important Bible character, or a major doctrine that underpins our beliefs.
Porch Prayer Meetings
6:15 pm – Various Places on the Grounds
These informal gatherings are tender times of sharing and praying together. Specific locations are announced during Camp.