Men With Vision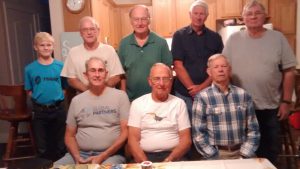 (MWV) had a productive work week October 22 – 28, 2018.  The participation was very good good:  16 men helped with projects designated by Winky throughout the week.  Meals were graciously provided by eight ladies who were also on the campground.
There were three work projects:
Motel:  Renovated five Motel rooms
Annex A:  Repaired sixty feet of the porch floor and the corner foundation
Glenn Tabernacle:  Did maintenance projects in several areas
Dr. Allan Coppedge led in a Bible study of 1 Thessalonians each evening at the home of Jewel and Rob Roy MacGregor.
On Sunday am, the MWV met together with the Indian Springs Ladies' Fellowship.  The Billy Coppedge family provided Bible study in a story-telling format; Dr. Allan Coppedge shared from the Scripture.  The group truly felt God's presence and enjoyed a time of worship and fellowship.