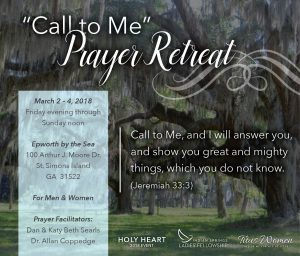 Indian Springs Ladies' Fellowship and Titus Women invite you, your spouse and your family to participate in our Prayer Retreat at Epworth by the Sea, St. Simmons Island, Georgia, March 2-4, 2018.
Speakers are Dan & Katy Beth Searls and Dr. Allan Coppedge.
The time will feature focused and dedicated prayer based on the passage from Jeremiah 33:3:
Call to Me, and I will answer you, and show you great and mighty things, which you do not know.
Click here to sign up for the Monthly Devotionals to prepare your heart for the Spring Prayer Retreat.
It will be a privilege to sit at the round table of God and to discuss with Him the things that are on His heart.  Be blessed by the fellowship of others as we join our hearts in prayer.  Read more…