February 8 – 20, 2018:  Please be in prayer for the 8-person mission team from Indian Springs who will be in ministry in Choluteca, Honduras.
Follow the team on the 2018 The Lizzie Project Facebook page!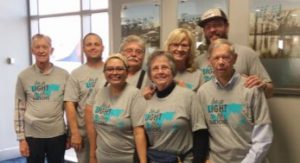 The team is lead by Rhonda Holton.  Team members include Joe and Lizell Peterson, Marcus Boarders, Kathy Ferguson, Daniel Boyette, Rob Roy MacGregor and Duell Stone.
The team departed from the Atlanta Hartsfield Airport on Thursday, February 8.  They will be serving through The Lizzie Project which provides scholarships, uniforms, school supplies and backpacks for children in Honduras.  The Lizzie Project is in association with the work of Larry and Angie Overholt of WGM.
While in Honduras, the team will be involved in various aspects of ministry.  Ministry work includes village outreach, Sunday School ministry, Bible Study, giving out pizzas and hugs!
Because of the nursing background of both Rhonda Holton and Kathy Ferguson, they will give some nursing lectures.  Some of the team will update and repair playground equipment such as swing sets and benches.  Most important, the team will share the love of Christ during their time.
Please pray for the team's safe travels, effectiveness and good health.