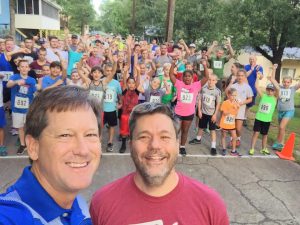 On Saturday, July 15, 2017, 143 walkers, runners, pushers of baby strollers and dog-walkers participated in the 8th Annual (Almost) 5K Run/Walk for Missions. Proceeds brought $8,500 for our OMS Missionaries, raising a total of $71,000 of funds since the first event in 2009!
The Snackateria was the registration and starting point. The pre-run/walk crowd milled around at the Snack as early as 7 am for the event.  Three laps around the campground completed the course. Participants ranged in ages from 4 years old to 75 years.
Winners of the 2017 5K are:
Adult Male:  Ryan McPeak (19:33)
Adult Female:  Mary Howell Hafner (23:14)
Child Under 12:  Brooks Atkins (11 years old; 26:57)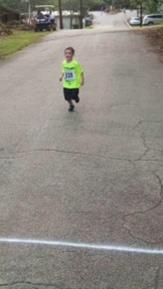 The runners/walkers received encouraging "yells and hollers" as cottage dwellers stepped out on their porches across the campground to cheer them on.  A family consisting of a mom, dad AND double baby stroller made an enthusiastic crossing of the finish line to applauding crowds!
Upon completion of the course, runners/walkers received a water bottle, a banana and the coveted 2017 T-shirt.  This year, the 5K T-shirt featured a great glow-in-the-dark graphic. The creative design is attributed to Alison Weeks.
This tiny runner (at left) crossed the finish line, then waited by the road for his dad to complete the course.  As his father passed by, the young runner yelled, "That's MY DAD!"
Thanks for the planning skills of the Thompson/Hafner/Thome/Pittman/Weeks/Hayes families for organizing this energetic event that is an annual highlight of campmeeting.